Name
: 
Asari's BP Armor
Type
:
Armor
Weight
:
Heavy
Appearance
: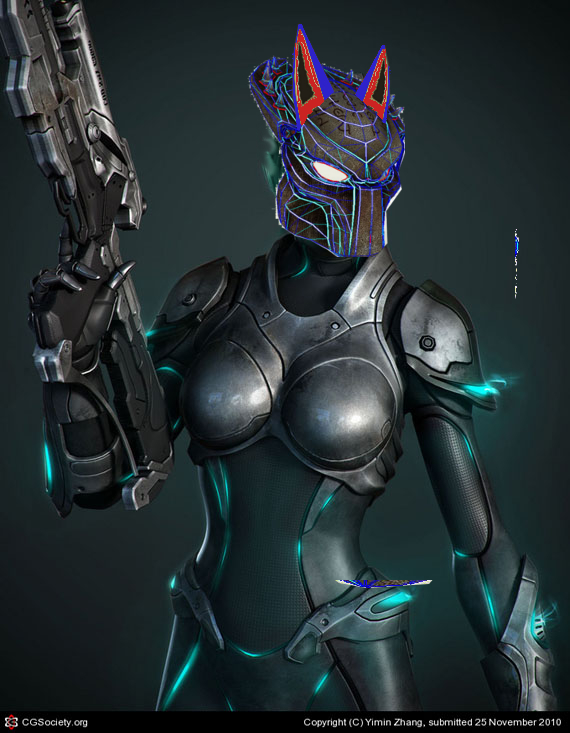 [Note: this is for continuity as it was approved prior to the Site shift. Previous price tag was 225,000 Yuan in case previous approval and payment doesn't carry over. ]
There is not a gun, and the breast plate is more masculine. However. Main image owned by Timin Zhag and the Ghost armor is owned by Blizzard. Mask
and Ears own by their respective entities. The blue color is flowing liquid that can be bent to the outside of the suit.
Ability
:
Chi-Blocking slightly difficult due to harden pieces; reduces non-lightning bent electricity. Partial protection against weapons. Details Follow:
The hardened pieces are the top of the torso and back including shoulders, the fore arms, the top of the legs and crotch. Of course the mask is a hard mask made of metal with a soft under lining.
Between the hardened pieces and leather of the suit it provides protection against blades and bludgeoning weapons, though the hardened pieces are more effective against blades then the leather is. The leather portions, which is what the suit is made of (the hardened portions are affixed to the leather of the suit) provides a non-conductive material that lessens the effect of standard lightning sources. Standard being anything that is not done through bending.
Between the helmet and the back armor the base of the skull is partially protected depending on positioning. As a note the hardened portions are hardened leather with an outside layer of metal.
Weakness
: 
The suit can be waterbent to slow him down. This is due to the flowing water and tank as with most water, a water-bender can water bend his suit and in someways act as blood bending as they can control the water in the arms and legs. However as he is a water-bender himself he can fight the affects once he realizes what is going on, still a great distraction. Weight is another factor. When the suit when full of water and in use it is rather heavy and may fall through weak material.
Extras
:
Water reservoir (12 gallons); mask muffles voice (think SW Strom Troopers).
The mask muffles the voice due to a lack of mouth piece. Utility belt and pockets to store gear and items.
The water tanks are thin tanks that take up a decent amount of surface area on multiple points of the body. The main tank is the torso piece both front and back, the other tanks are located as apart of the upper leg and forearm armor.
There are tubes that have the water flow throughout the suit. The non-hardened parts and slightly porous and allow the water to be bent from the tubes to escape the suit, additionally the fore-arm areas have an area to allow water to escape in larger singular amounts. The water doesn't escape the suit in normal operation due to small flaps and water pressure.
Want to clarify protection values
Protection of Leather:
Bludgeoning (blunt attacks)- Moderate
Cutting- Low
Thrusting- Low
Non-bending Lightning- Moderate
Bended Lightning- None
Protection of Hardened sections (Hard Leather with layer of Metal overlay):
Bludgeoning (blunt attacks)- High
Cutting- Moderate
Thrusting- Moderate
Non-bending Lightning- Moderate
Bended Lightning- None
Protection of Helm:
Bludgeoning (blunt attacks)- Moderate
Cutting- High
Thrusting- Moderate
Non-bending Lightning- Low
Bended Lightning- None